The Bio-Optical Oceanography Laboratory operates the AERADNET station at the Isla Magueyes Field Station in La Parguera, Lajas, Puerto Rico (17˚58' N, 67˚62' W). The AERADNET incorporates data from the ICON CREWS station located at Media Luna cay (Location: 17.939, latitude, -67.052 longitude). These sensors provide valuable data in the areas of:
(1) Aerosol Monitoring
(2) Meteorological and oceanographic monitoring
(3) Radiation Monitoring
---
AEROSOL MONITORING
---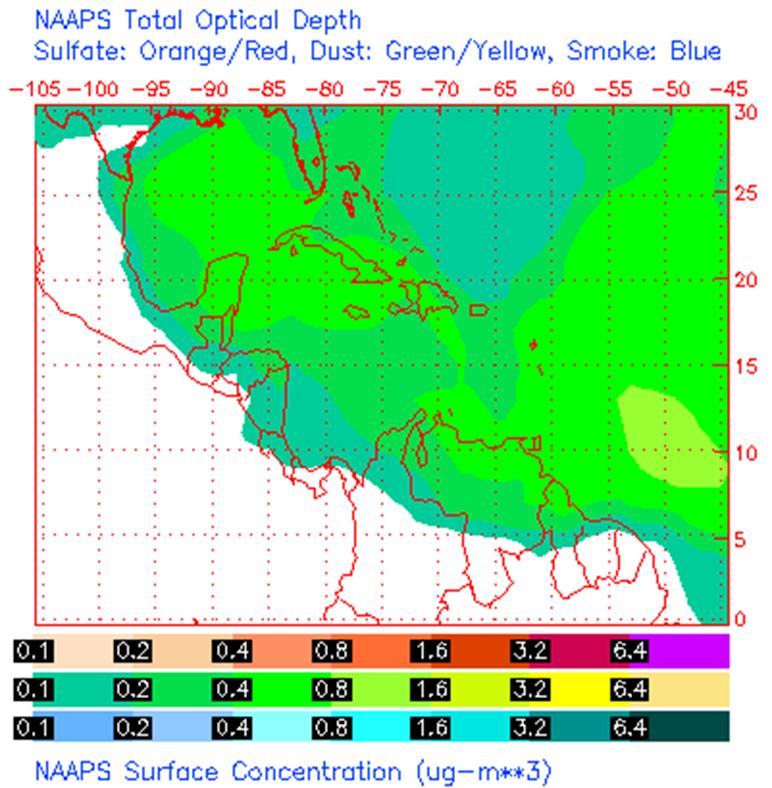 AERADNET
The aerosol and radiation network (AERADNET) was developed by the NOAA Center for Atmospheric Sciences (NCAS) to study the impact of aerosols on climate and air quality. The Aerosol Robotic Network (AERONET) is managed by the NASA/Goddard Space Flight Center (GSFC) and has been in operation at La Parguera since 2000. AERONET provides observations of spectral aerosol optical depth (AOD), inversion products, and precipitable water in diverse aerosol regimes and in eight spectral bands (340, 380, 440, 500, 670, 870, 940 and 1020 nm).
Some prediction models like NAAPS (Navy Aerosol Analysis and Prediction System) Global Aerosol Model use AERONET data for their forecast. This model is developed by the Naval Research Laboratory at Monterrey, CA.






Aeronet La Parguera NAAPS Forecast Loop Saharan Air Layer (SAL)
---
METEOROLOGICAL AND OCEANOGRAPHIC MONITORING
---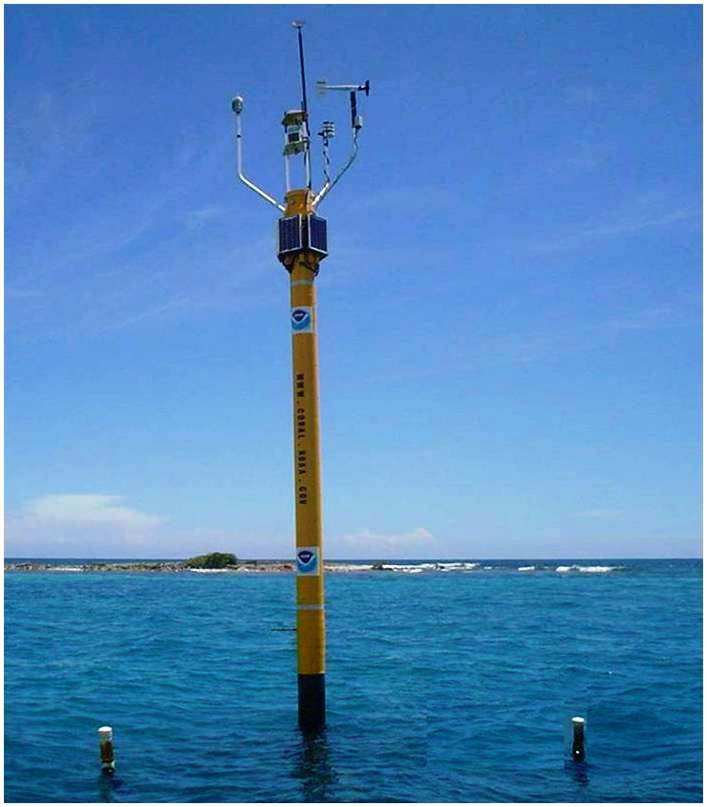 ICON CREWS Station La Parguera (LPPR1)
The LPPR1 coral monitoring station which is part of the Integrated Coral Observation Network (ICON) went online at Media Luna Reef in January of 2006. The data are used for the Coral Reef Early Warning System (CREWS).
The basic suite of meteorological and air-based sensors measure air temperature, wind speed and direction, barometric pressure, photosynthetically available radiation (PAR) and ultraviolet radiation (UVR).




---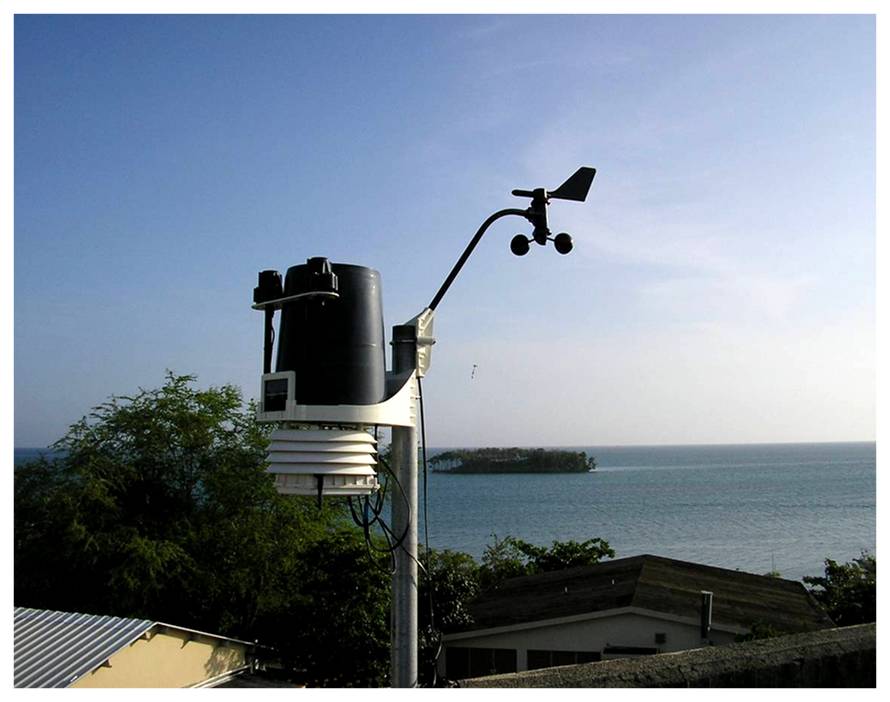 Davis Vantage Pro 2
This meteorological station has been collecting data since October 2008. This system measures barometric pressure, temperature, humidity, precipitation, wind speed, wind direction, and solar irradiance. Real-time data are archived in a web server.


Current Weather Conditions

---
RADIATION MONITORING
---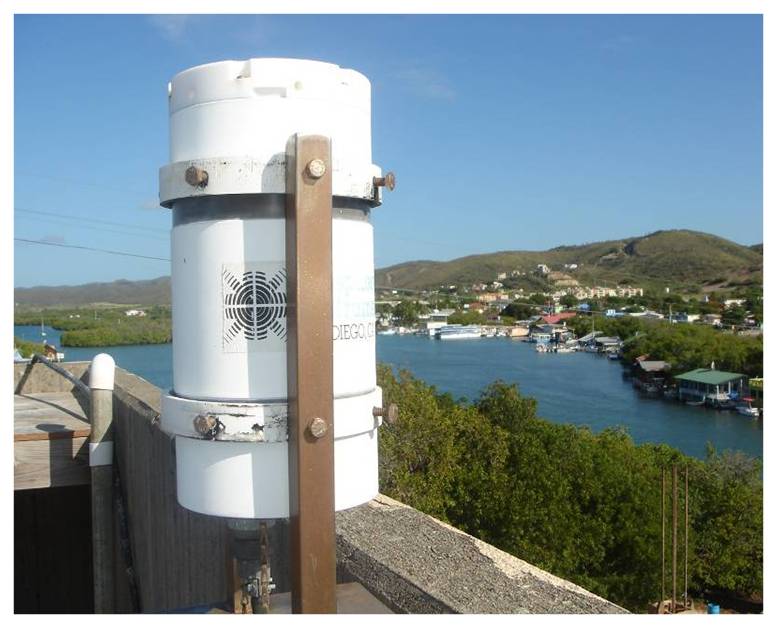 GUV 511
The GUV 511 ground-based ultraviolet radiometer (Biospherical Instruments) has been operating continuously since 1997. The GUV measures UV irradiance at 305, 320, 340 and 380 nm at a bandwidth (FWHM) of 10 nm, and Photosynthetically Active Radiation (PAR: 400 – 700 nm). It operates at a time resolution of 1 min. Daily doses of UV radiation are estimated using the equations of Orce and Helbling, (1996).

REALTIME DATA COMING SOON!